It's On is produced in Germany for Suenyo GmbH and distributed by Suenyo. The heart and soul of Suenyo are Belinda & Mitch.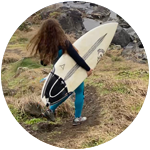 Belinda moves just as confidently in a business look as in a wetsuit. She has many years of management experience and has launched various medical products in the past. Sport has always played a central role in her life, whether it be beach volleyball, climbing, diving, surfing or snowboarding, she is in her element and knows the central role of good sun protection.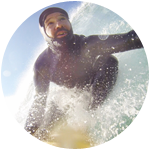 Mitch fits into a suit, but it would be an exaggeration to say that it also suits him. He emigrated in 2017 to live by the sea and be able to surf every day. After a few years of traveling, he now lives in Portugal. He is a surfer, surf instructor, yogi, surf instructor trainer, book author and entrepreneur all in one and knows from his travels and through his job the importance of reliable sun protection. He checks the quality of It's On in his own face every day while surfing.
We got to know each other in Portugal while surfing. We had both been thinking about producing sun protection ourselves for a long time, the idea of jointly contributing to sun protection for sports came about a few months later in the Azores. This was followed by brainstorming, work on the recipe and design as well as the foundation of Suenyo in February 2021. With It's On, we are very pleased to have created an alternative to the problematic sun creams with oxybenzone or octinoxate.
Zinc oxide is also a natural bright white color pigment. That means that using zinc oxide will cause zinc pastes and creams to be bright white. To avoid this effect, some manufacturers use zinc oxide in the form of nanoparticles. These tiny particles are transparent and therefore supposedly more attractive than the white pigments. The main disadvantage here is that these tiny nanoparticles can penetrate our skin or corals, for example, and damage them. There are studies that prove this damage and, conversely, studies that prove that nanoparticles are harmless. We don't want to get involved in this dispute, but we do have an opinion on it. We believe that it's better not to expose humans and nature to the risk of nanoparticles. It is therefore clear to us that we do not use any nanoparticles for It's On.
But we are also of the opinion that you don't necessarily have to put on white make-up to protect yourself from UV radiation. That's why we add a little pigment to It's On to achieve a subtle brown coloration of the paste.
Titanium dioxide is also a mineral UV filter and can be used as sun protection. It covers a different UV spectrum and is therefore for example very suitable as a supplement to zinc oxide. Compared to zinc, however, titanium dioxide is not without its problems. Here, too, the experts argue, but there are more and more voices that classify titanium dioxide as hazardous to health. It is not only about the application for the end customer, but also about the processing as titanium dioxide accumulates in the body. Inhalation in particular is considered carcinogenic and is therefore extremely problematic. For this reason we do not use titanium dioxide for It's On.
UV-A and UV-B are components of ultraviolet radiation and are potentially dangerous for our health. The skin and eyes are particularly affected. UV-A penetrates deeply into the skin and can potentially cause skin cancer. UV-B penetrates less deeply, can cause sunburn and damage the skin, but it is also responsible for the formation of vitamin D. Sun protection must therefore reliably filter both UV-A and UV-B and thus prevent damage to the skin. Zinc oxide meets these criteria because it covers a large area of both UV components.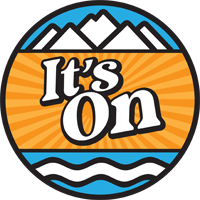 It's On is manufactured on our behalf in Germany using certified procedures and processing methods in compliance with GMP. Our manufacturer has over 30 years of experience in the manufacture of cosmetic products and guarantees high product quality and product safety.