mineral sun protection for outdoor sports
It's On zinc paste water resistent, mineral UV protection for your skin
mineral sun protection made in Austria
Zinc oxide is a mineral UV filter and protects your skin from sunburn. We do not use nanoparticles, on the one hand to rule out any possible risk to health and the environment, on the other hand because we think that a little zinc on the face makes the world a lot more colorful. 
It's On zinc is manufactured in Austria according to certified processes and the highest quality standards. The result is a fine paste with very good spreadability and excellent hold on the skin.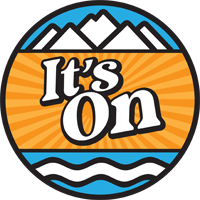 Mineral sun protection covers the skin and reduces the penetration of harmful UV radiation.

Zinc paste does not absorb, it has to be applied as a covering layer and thus ensures reliable sun protection
Zinc oxide is white, for a more subtle shade we add a little earthy pigment
Oils, waxes and butter ensure the suppleness of our zinc paste
In the shade again, the paste can be removed or simply left on the skin
Beeswax is the second main component of our paste and ensures that it adheres well to the skin
Together, the ingredients result in a pleasant, natural fragrance with a slight wax note
Regardless of whether it is natural white or colored, zinc paste covers the skin, can stick to hair and eyebrows and does not simply disappear by itself. It is therefore less comfortable than sunscreen that is invisibly absorbed into the skin.
Why still use zinc paste?



For the sake of your skin
Our natural ingredients give the skin moisture and support wound healing. By using It's On, your skin is protected and cared for at the same time.