Natural ingredients - It's On at a glance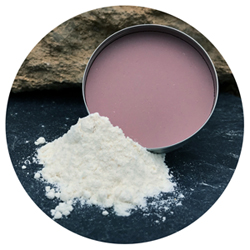 Zinc Oxide oder Zinc PCA
Description
Zinc oxide is a chemical compound made from zinc and oxygen. On the one hand, zinc oxide can occur as colorless, hexagonal crystals, on the other hand, due to the refraction of light in the case of very small crystals, also as a loose, white powder.
Use and areas of application
In cosmetics, zinc is used primarily because of its protective effect as a UV filter and because of its positive effect on the skin in general. Zinc represents a reliable barrier protection for the skin. In addition, zinc also has a calming and wound-healing effect, is completely skin-friendly and harmless and is therefore very often used as a zinc ointment in baby cosmetics.
Effect
Zinc has a variety of effects. As zinc oxide, this represents a physical UV filter on a mineral basis. It acts like a physical barrier on the skin, reflects and absorbs solar radiation and thus protects reliable against UVA and UVB radiation. Zinc oxide is not only very well tolerated by the skin, even for people with particularly sensitive skin, but also acts as a topical agent against skin irritation. Zinc oxide also has an antibacterial and astringent (contracting tissue, e.g. in wounds) effect.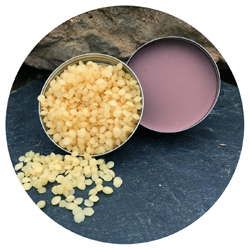 Cera alba
Description
Cera alba is wax melted and purified by water. It has a consistency that can be kneaded by hand and thus has a high degree of softness and suppleness. It has a faint fragrance, but it is tasteless and insoluble in water.
Use and areas of application
In cosmetics and pharmacy, beeswax is often used as an additive due to its good emulsifying properties and its fat-like character. The skin is protected by the beeswax laying a film on the surface of the skin. In skin care products, beeswax mostly has antiseptic and anti-inflammatory functions.
Effect
Many benefits are ascribed to beeswax, such as protective, anti-inflammatory and antibacterial effects. The addition of beeswax also increases the shelf life of the cosmetic product and prevents it from spoiling too quickly.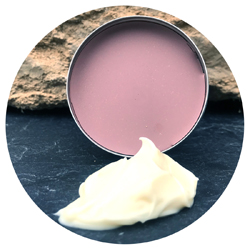 Adeps lanae oder Vera lanae
Also known under the names: wool wax or wool fat
Description
Lanolin is a solid-liquid wax mixture that effectively binds moisture in the skin and is therefore ideal for skin care.
Use and areas of application
Wool wax has very good skin care properties and regulates the transepidermal water balance. Due to these properties, lanolin accelerates wound healing. For this reason, lanolin is ideal for wound ointments, baby creams and skin care creams as well as skin protection ointments.
Effect
Lanolin in cosmetics has a moisturizing effect and makes it more supple for dry skin. Furthermore, the resilience of the skin is supported and wound healing is promoted. Lanolin is also said to have an anti-inflammatory effect and the ability to strengthen the skin's own protective barrier. In addition, lanolin is extremely well tolerated due to its low allergic potential.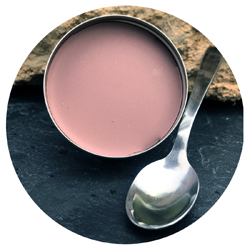 Prunus amygdalus dulcis Oil

Also known under the names: almond kernel oil, amygdalae oleum, amygdalae oleum virginale, amygdalae oleum raffinatum, sweet almond oil
Description
Almond oil is a very mild oil and is obtained from sweet almonds by means of cold pressing for the best quality.
Use and areas of application
Almond oil has various areas of application, from culinary and pharmaceuticals to body care and cosmetics. It is contained in many care products for the face, body and hair and is also very popular for massage. Due to the fact that almond oil is a very mild oil, it is also used in the care of dry and sensitive skin and for neurodermatitis.
Effect
Almond oil contains a lot of vitamins and lipid replenishing substances, especially when cold-pressed. As a result, it cares for the skin sustainably and provides moisture. Almond oil is well tolerated, non-irritating and makes the skin supple.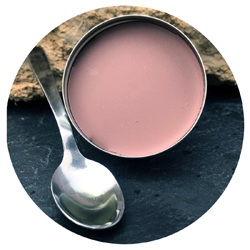 Cocois oleum raffinatum PhEur oder Cocois oleum
Also known under the names: coconut fat, coconut butter, coconut butter, VCO
Description
Coconut oil is a white to yellowish-white vegetable fat that is extracted from copra, the coconut's nutrient tissue. This has a high proportion of saturated fatty acids and is used not only in culinary art, but also in the food industry and, above all, in cosmetics.
Use and areas of application
Coconut oil is a purely natural product and is one of the so-called superfoods. In the food sector, this is used as edible fat for frying, baking, steaming and deep-frying as well as for the production of margarine. In cosmetics, this is mainly used as an ointment base and for the manufacture of cosmetics and body care products.
Effect
In the cosmetic field, coconut oil is a very good moisturizer and also has a cooling effect on the skin. In addition, coconut oil is said to have an antibacterial, wound healing and anti-inflammatory effect.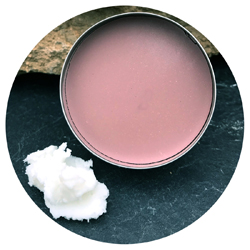 Butyrospermum parkii butter
Also known under the names: Butyrospermum parkii, Butyrospermum Parkii Butter, Karité, Karitébutter
Description
Shea butter is obtained from the nuts of the shea nut tree Vitellaria paradoxa, which is native to Africa, and is a vegetable fat. Shea butter is a real all-rounder in the field of body care and cosmetics. Shea butter is mainly used in natural cosmetics.
Use and areas of application
Shea butter is widely used in both cosmetics and health. The areas of application range from the care of dry skin or skin prone to neurodermatitis, the treatment of eczema, rashes and scars as well as in the field of sun protection and apres sun care.
Effect
Shea butter has skin-caring, smoothing, protective, nourishing and moisturizing properties and also absorbs UV radiation. This makes it twice as useful when using zinc paste as sun protection, because on the one hand the UV protection is increased and on the other hand the skin is additionally cared for and protected.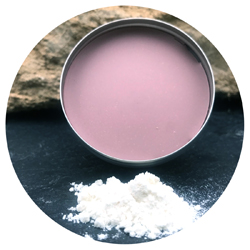 Bolus alba
Also known under the names: china clay, white clay or pipe earth
Description
Kaolin is a fine, iron-free, white rock, which contains kaolinite as its main component.
Use and areas of application
Kaolin has many different areas of application, including in cosmetics, as well as the food industry, medicine and as a cleaning agent.
Effect
In the cosmetic field, kaolin is often used in face packs, as this has a particularly cleansing and fat-absorbing effect on skin impurities. Kaolin is very gentle and very well tolerated and prevents the skin from feeling greasy.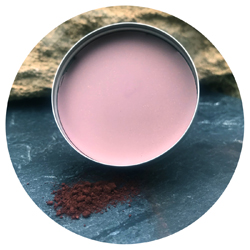 Iron hydroxides
Also known by the name: E172

Description
Iron oxide is of mineral origin. It is available as yellow, red and black coloring agents and is used in pharmaceuticals, food and cosmetics.
Use and areas of application
Iron oxide is used as a matt pigment in natural cosmetics for make-up, tinting creams and make-up cosmetics.
Effect
In the cosmetic field, iron oxide is used as a natural pigment for coloring. It is classified as harmless and is therefore very often used in natural cosmetics.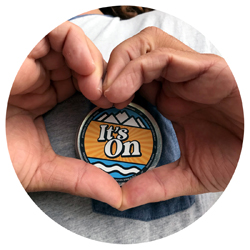 verus amor

Also known by the names: true or real love
Description
Love is emotional in nature and an essential ingredient in sustainable products. Although it is odorless and colorless, this ingredient gives every product an individual and special touch.
Use and areas of application
In natural cosmetics, it is mainly noticeable in the use of natural and healthy ingredients and in the use of environmentally friendly packaging materials.
Effect
It increases the health and environmental compatibility of cosmetic products, improves the working conditions of those involved in the product and leads overall to sustainable products.
Zinc oxide is also a natural bright white color pigment. That means that using zinc oxide will cause zinc pastes and creams to be bright white. To avoid this effect, some manufacturers use zinc oxide in the form of nanoparticles. These tiny particles are transparent and therefore supposedly more attractive than the white pigments. The main disadvantage here is that these tiny nanoparticles can penetrate our skin or corals, for example, and damage them. There are studies that prove this damage and, conversely, studies that prove that nanoparticles are harmless. We don't want to get involved in this dispute, but we do have an opinion on it. We believe that it's better not to expose humans and nature to the risk of nanoparticles. It is therefore clear to us that we do not use any nanoparticles for It's On.
But we are also of the opinion that you don't necessarily have to put on white make-up to protect yourself from UV radiation. That's why we add a little pigment to It's On to achieve a subtle brown coloration of the paste.
Titanium dioxide is also a mineral UV filter and can be used as sun protection. It covers a different UV spectrum and is therefore suitable as a supplement to zinc oxide. Compared to zinc, however, titanium dioxide is controversial. Inhalation in particular is considered carcinogenic and is therefore extremely problematic. In addition the European Commission has adopted a ban on the use of titanium dioxide as a food additive. For this reason we do not use titanium dioxide for It's On.
It's On is manufactured on our behalf in Austria using certified procedures and processing methods in compliance with ISO 9001 and ISO 14001. Our manufacturer has years of experience in manufacturing cosmetic products and guarantees a high product quality and safety.